What's the latest?
Daily updates during the ride here: graphic | text only
Familiar Hills
May 23, 2010 • 96 miles - This is my last big weekend of training, so I did another long ride today, this one hillier than yesterday. The course took a familiar route, beginning at the Presidio and winding through Sausalito up to Fairfax, then over White's Hill and into Nicasio and over to the Cheese Factory. From there we headed up Marshall Wall. It is nice to be on familiar ground because it makes the pacing easier, and carries a certain confidence knowing that I've traversed this ground before. I've done Marshall Wall only once or twice in the past and I'd forgotten the details. The picture above is the view from the start, but it doesn't really do the climb justice. The hill ran a bit longer than I remembered; it's one of those where you think you're at the top and then you turn a corner and see more hill. The views from the top are excellent, and there's a nice downhill afterwards.
The funny thing about the "Marshall Wall" ride is that Marshall Wall is just one of several hills we encountered today- among them are Camino Alto (small now, but big when I first rode it several years ago), White's Hill, and the climb leading to the Cheese Factory, affectionately known as "Alps du Fromage"- all of which made for a challenging but satisfying day of riding, and a nice conclusion to the training season.
Wind, "flatness", and jellybeans
May 22, 2010 • 105 miles - In a pattern that's becoming increasingly common lately, I was up very early on Saturday: 4 am, to be in Orinda by 5:30 for a ride-out at 6:15. This is before BART starts running. Fortunately, my new tentmate, Shawn Burke, gave me a ride. Shawn only recently decided to do the ride this year, and he's already raised enough to qualify for online tent registration this week, so we got in just under the wire.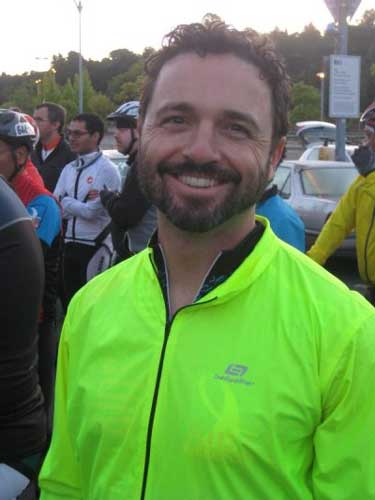 Orinda, around 6 am
Let me just say is cold in Orinda at 6 am. I can't remember ever being this cold, and for the first hour I was worried about frostbite on my fingers. I do own a pair of full-fingered gloves, but all everyone ever talks about on this ride is how hot it is. Of course, that's usually a reference to the temperature in the afternoon; mornings everywhere are usually just cold.
This had also been advertised as a "flat" ride. It was "Bay Area" flat, so there was still a fair amount of climbing. That was actually fine; what ended up being frustrating were the brutal headwinds that made it difficult to maintain 10 mph on the flats. That, and one confusing stretch early on where I couldn't make out the horizon. Between that and the wind, I couldn't tell if we were going uphill or downhill.
The route took us from Orinda - Moraga - Lafayette, then paralleling Hwy 4, cross the Carquinez bridge into Vallejo, cross west on Lake Hermann road to 680, then parallel 680, branch west through the tiny little town of Cordelia, finally north to the edge of Fairfield and the Jelly Belly factory, about 56 miles. The route back was a bit more direct and involved crossing over the Benicia-Martinez bridge, which apparently only recently received a bike lane. We had a lovely refinery/government base tour of Bencia and Martinez before heading back down to Martinez and back to Orinda.
I suppose because of the length of this ride, we had support- there were a couple of SAG cars, one of which had refreshments, which was lovely. They treat us really well during the actual ride, but usually we're on own on for food and drinks during the training rides. So, thanks to the crew for your support! One of the stops was at a McDonald's and I must the hash browns tasted particularly good this morning.
My tentmate Shawn and I at Rest Stop 2- Starbucks and McDonalds in Vallejo
The illustrious Jelly Belly Factory
I've never been to the Jelly Belly Factory before. We didn't stick around for a tour, but they had a snack bar where most of us got the chicken breast sandwich with brie and carmelized onions- the rest of the menu was of the hamburger/hot dog fare. Reagan memorabilia abounds; I suppose, because he put that brand on the map.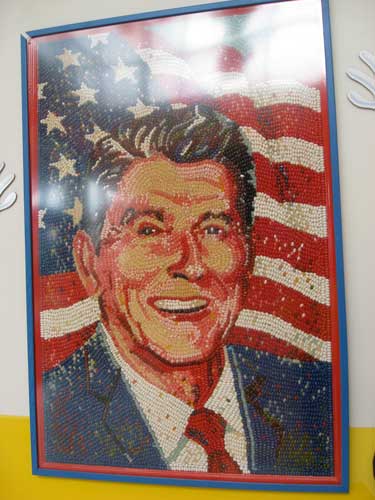 Overall, the weather was rather cold. We got a bit of sun just before lunch but it was still chilly. Dark clouds formed during lunch and as we rode out it sprinkled a bit. As we headed to Martinez, we left the clouds behind, but I remained bundled up. Very stark contrast to last year's Jelly Belly ride apparently, where temperatures topped 100 degrees, and several people sagged as a result of dehydration.
I was a litle anxious about today's ride because I haven't done a century since the last ALC I did in 2008. I was definitely worn out by the end, but we made it.
105 miles. I had to take a picture.
Rain, rain, rain
May 10, 2010 • about 10 miles - It started with the best of intentions. John and I were up and at breakfast at 6:30 am, and I rode out with the group at 8:15. It was sprinkling but we were optimistic. There was like a 10% chance of rain, and it wasn't supposed to get bad until about 4 pm, hence the early ride-out. I made it about 10 miles, out to Monte Rio and onto the Bohemian Highway, and the rain just did not let up. This was no 10% chance; it was 100% raining. I was not wearing rain gear, even my phone was not in a plastic bag, and I was completely soaked. Mark and I called it quits, and fortunately my phone, though damp, was still functional, so I was able to call John and have him come pick us up. I was bummed to miss out on the miles, but glad to be safe (and dry) once we made it back to the hotel, after which we drove back to SF.
Guerneville to Healdsburg and back
May 9, 2010 • 36.8 miles • 15.8 mph avg - John is up here, I'm tempted to play hooky and just hang out with him, but I'm really glad I rode today. It's such a great ride. Mostly flat, a few rollers, beautiful wine country scenery, and then a chance to hang out in the square in Healdsburg. Oakville Grocery is always nice, though I've noticed there's a lot less grocery in there now, to make room for T-shirts, souvenirs, and more wine. Well, I guess you go with what works.
San Francisco to Guerneville
May 8, 2010 • 88.5 miles • 13.2 mph avg - I love days like today. I got on the bike in the morning, rode out of my house, and in the evening I was up at the Russian River. The meet-up was in Sausalito, so I had a little 14 mile solo ride, then a rest while we all gathered up before heading out. There was a steady stream of breaks every 10 miles or so, until we got to the Cheese Factory in Petaluma. I heard my friend Mark say "26 miles until lunch" but it didn't really register until I started realizing I hadn't refilled my water bottles and they started getting low. The wind picked up as we were nearing Valley Ford and the going got a bit tough. Fortunately, Mark had water to spare and we pulled each other through. It also didn't help that we hadn't really looked closely at the mileage. At first it was, "oh, lunch is at like 50 or 52 miles". But then when 52 came and went, we got out the route map and realized it was at 54.7 miles. Then when 54.7 miles came and went, Mark was ready to just stop right there and start eating, whether there was food or not. Our mileage was a bit off, but at last we rounded the corner and made it to the Valley Fair market where we had lunch. The next rest stop seemed just inches away, and the final stretch through Occidental and up to Guerneville was pleasant, and I was glad to be finished at the end, and even happier to see John meet me up there. We had dinner with Mark and his boyfriend Ronney at a new place called Boon- very nice, small slow food place- casual but much nicer than the typical Guerneville fare.
Day on the Ride
April 24, 2010 • 70 miles - Friday night I set my alarm for 4:30. Saturday morning I woke up at 5:30. Fortunately, John was able to get me to Sports Basement in time for the ride. Today's event is known as "Day on the Ride" because, well, it simulates a day on the ride. There are rest stops, a catered lunch, people in funny costumes, the works. About 300-ish people participated, so it's the largest ride I've been on this year, and a chance to meet and greet some familiar faces, which was very nice. I rode with my new bike buddy Jon (not in the picture above), who helped make the headwinds on the way back more bearable.
The route left Sports Basement and headed south through the Presidio and down the Great Highway. Once the annoying stoplights were behind us, and we'd navigated the weird/challenging Fort Funston to Pacifica stretch, we made it down to Skyline road, bypassing that ridiculous hill we often climb, and then we were into the beautiful 280 territory, down to San Carlos. On the way back we rode by the Pulgas Water Temple. Between the scenery, the weather, the camaraderie, not to mention the cause, I was reminded why it is I'm willing to get up so early and spend all day riding like this.
Thanks to Bob Katz for the action photo above. I don't think I have any other pictures like this!
Cheese Factory - Pt. Reyes Ride
April 18, 2010 • 88 miles - I think something may be wrong with me. I got up at 4:30 am this morning and rode out of the house at 6 am (just after the sun came up), to get to Sports Basement by 6:45, barely in time for the ride which was leaving in a hurry because the Golden Gate Bridge was about to close for a 10k run. Please tell me, who in their right mind gets up at 4:30 on a Sunday morning? There were at least 40 other riders that rode out with me at 6:45, so perhaps it's a collective disorder.
We rode up through Sausalito to Fairfax and over White's Hill, then over to Nicasio and to the Cheese Factory. From there we turned around and went to Olema and then Pt. Reyes for lunch, after which we headed back through Samuel P. Taylor park through Lagunitas, back over White's Hill and back to Sports Basement. John picked me up at the end and took me home, which was excellent. Early this morning I thought perhaps I'd opt to ride all the way home, to inch closer to that milestone that is a century, but 88 miles was certainly enough, and a century can wait for another weekend.
With each training ride I run into folks I've met and ridden with in the past, which is quite a treat, and I'm making new friends along the way as well. Plus, it was actually nice to look at my watch after riding 25 miles, and seeing that it was barely 9 am.
Stinson Beach Ride
April 10, 2010 • 75 miles - Today I joined an organized ride from Sports Basement up through Fairfax, over White's Hill and through Samuel P Taylor park to Olema, then over to Stinson Beach and down Highway 1 and around back to Mill Valley. It's a 69-mile route, plus a few extra miles because I rode from home. I hadn't looked at the weather report, but it turns out because rain was expected on Sunday, a ton of people showed up for this ride.
The weather was iffy but we headed out nonetheless. It did sprinkle here and there, and broke into a full rain at one point, but otherwise, it was just cold and cloudy. I'm actually grateful for the less-than-stellar weather because it meant the roads weren't as crowded as usual, and it wasn't hot.
I haven't ridden this stretch of Highway 1 before, and it's been a while since I'd driven it, so I had forgotten what it was like. First of all, it's absolutely beautiful, which really helps to compensate for the soul-crushing experience of cresting a long, winding hill only to turn a corner and see a long drop followed by another long climb. It does this about three times, and the final climb winds over a long stretch inland. There's something about not knowing a route like this that makes it a bit more arduous- you really don't know whether you're almost done, or if you're just a small part of the way there.
Fortunately, I fell in with a nice group of guys keeping a similar pace, and it really helped. My average speed actually picked up when I was riding with them, as I think we all pushed each other a bit. The stretch between Olema and Stinson was long and windy, but not too hilly, and we all kept the gas on. The Hwy 1 stretch was a bit of a different story, and we all took advantage of "picture-taking opportunities" to take breaks, even though not all of us had cameras. :)
Given the late start I've gotten with my training, the fact that today's ride was 50% longer than my longest ride this year, combined with the hills on the route today, I'd say doing this ride was an ambitious decision. I'm grateful to have gotten through it and grateful for the support that I got from the other riders. 8 weeks left to go until the ride, and if I keep going, I should be in good shape.
Bike to Work Take 2
April 9, 2010 • 13 miles - I don't need to blog about every single bike commute, but I thought I'd mention that I continue to figure out the best way to get up Mt. Davidson coming home. The street I live on is ridiculously steep. The last two blocks are basically impossible to climb, with all the junk I carry (work clothes, laptop, etc.), and no granny gear. Today I thought I'd be clever and deviate from the route that Google suggests. Bad idea. I ended up encountering even MORE climbing. It's so frustrating to have to walk my bike up a hill, but it comes down to a choice between going 5 or so blocks out of my way to do a gradual climb, vs just walking the last two blocks. Today I did take the longer route so I could pedal the last few blocks, but because of my earlier cleverness, I did have to do some hoofing earlier.
Home to Fairfax and Back
March 27, 2010 • 51 miles - I did a solo ride today, leaving from my house, and riding through Golden Gate Park, up through the Presidio and over the Golden Gate Bridge. I went through Sausalito through Mill Valley, Ross, San Anselmo, etc. to Fairfax, then turned around and came back. It's the first long ride I've done from the house, and it was fine. I did get a bit lost between the park and the presidio, but it's all about mileage at this point, anyway, right? So that was actually a good thing, at least that's what I kept telling myself.
There are a lot of hills on the way home back up Mt. Davidson, but I've found a route from the Presidio that isn't ridiculously steep in places.
While I was out, I ran into a lot of ALC riders on an organized ride. It's good to see people, and I'm glad to be out on the road again.
Bike to Work Day
March 18, 2010 • 13 miles - I am not going to ride this weekend so I wanted to make sure I got in at least one ride during the week this week. I rode my bike to work for the first time. Using a combination of directions from Joseph Collins and the new Google maps bike directions, I made my way from Miraloma Park to SOMA. Wow, Google maps is smart. They even knew that going downhill most of the way there would take less time than getting back. That works out nicely, since we don't have a shower at work, and I'm not completely drenched when I get there.
I rode some side streets that I've never paid attention to before, like 24th street between Valencia and Potrero. It had a bit of the vibe of one of the mornings on the big ride, where you're just leaving Santa Cruz or some other town, riding through traffic before making out onto the open road. Of course I'm self-conscious about showing up at work in my bike gear, so I made sure I was the first one there this morning and the last one to leave. I did make it home just as the sun was going down- thanks, Daylight Savings!
Lagunitas
March 14, 2010 • 37 miles - It's my first "real" training ride of the season. I drove to Sausalito, hopped on the bike and headed north. This was a solo ride, but along the way I ran into some ALC training rides. The route took me along the Sausalito bike path, over Camino Alto, through Ross and San Anselmo to Fairfax, which is where Joseph Collins snapped the nifty picture below.
From Fairfax I went over White's Hill and down into Lagunitas. At the store in Lagunitas I ran into a big ride with lots of old friends. It was great to see everyone- I rode back with my friend Chuck Louden for a ways, which made getting over White's Hill again easier. Back again over Camino Alto and I was back at the car, grateful to be done for the day. That was long enough for a start. Twelve weeks left, and I'll be amping up the mileage along the way.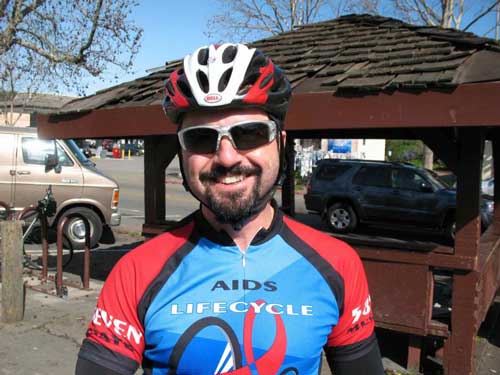 Mill Valley
January 17, 2010 • 0 miles - With the best intentions, I suited up, got in the car this morning, and drove to Sports Basement. The weather was hit and miss, and as we waited for the ride time to start we watched sky clear and then cloud over again. Ultimately Joseph decided to call it off. Back home in the afternoon, after the weather cleared, I did a few miles around my very hilly new neighborhood.